The European Parliament Elections of 2019
edited by Lorenzo De Sio, Mark N. Franklin and Luana Russo

The first European Parliament elections after the Brexit referendum; the first after the election of Donald Trump and the success of populist parties (and the instalment of "populist" governments) around Europe; the first EP elections testing the institutionalization of the Spitzenkandidaten mechanism – the innovation that sought to link EP elections to the choice between candidates for President of the European Commission. The European Parliament elections of 2019 were a first in many aspects, pointing to relevant questions that might be answered once the votes were in.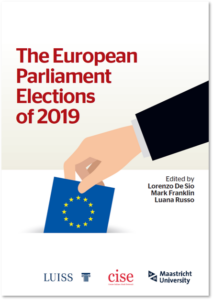 This is a book about those elections. In it a large group of scholars (featuring 50 authors from 30 different countries) explore the nature of these elections in a twofold manner: the first part of the book explains the outcome and the implications of the elections in a comparative, wide-ranging perspective that spans all of the 28 EU countries; in the second part, experts from each of those EU member countries take a similar approach for each country, by describing and discussing the elections there in detail.
The overall objective of this book is to provide a comprehensive and overarching, yet systematic and detailed analysis of the election outcome. It aims at shedding light on why these elections were important and in what ways they may even have been pathbreaking, perhaps initiating a new era in which EP elections have palpable consequences, possibly bringing more European citizens to the polls. From a turnout perspective, the 2019 EP elections were quite remarkable: the first such election in decades to exceed 50% turnout, with an overall increase of 8.4 percentage points with respect to 2014, and increases observed in 21 of the 28 member countries. In addition, this election also may be the first to exhibit a common dynamic across all of the EU in swings of vote shares between party groups – a "Europeanization" of EP voting. All these aspects are discussed in detail in a book which – in a timely fashion: exactly one month after the election result – is offered as a guide and reference to scholars, practitioners and interested citizens alike.