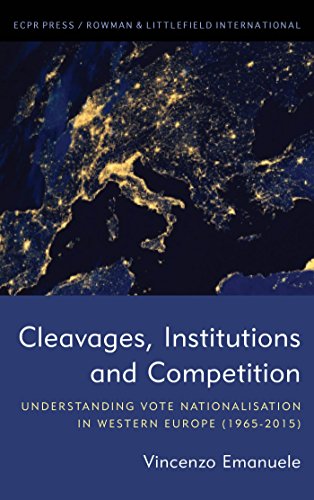 Emanuele, V. (2018), 'Cleavages, institutions, and competition. Understanding vote nationalization in Western Europe (1965-2015)', London: Rowman and Littlefield/ECPR Press.
ISBN: 9781786606730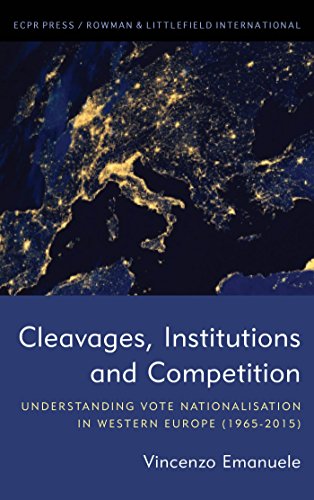 The study of how party systems are structured across territorial lines is a crucial research question for political scientists, whose answer is fraught with consequences for the political system and the democratic process.
This book addresses this topic, asking:
What has been the evolution of the vote nationalisation process in Western Europe during the last fifty years?
Which factors can account for the vote nationalisation's variance across Western European party system?
Through a macro-comparative perspective and original empirical research, involving 230 parliamentary elections in sixteen countries during the 1965─2015 period, this book answers these questions. It analyses the evolution of vote nationalisation in Western European party systems over the last fifty years and looks for an explanation.
The result is a far-reaching understanding of the macro-constellation of factors involved in the process, including macro-sociological, institutional, and competition determinants.
'In a time where party changes on different levels and the emergence of new parties are characterising European politics, the author analyses and explains the territorial structuring of party support in Western Europe over the last fifty years, thanks to a rich and original dataset. The result is this book that any scholar, student, and practitioner of contemporary politics should read and ponder carefully.'
Leonardo Morlino, Former President, International Political Science Association (IPSA)
'This in-depth analysis of vote nationalisation in the Western European democracies provides a much-needed clarification of the concept and a comprehensive and systematic explanation of its patterns of variation. In this regard, it makes significant theoretical and empirical contributions and will be a precious source for anyone involved in the study of elections, parties and party systems.'
Alessandro Chiaramonte, Professor of Political Science, University of Florence